Shoplifter Task Force

Officer Christopher Fredenburg has been assigned to the east district of Saginaw Township for several years. The east district has a large concentration of retail businesses including the Fashion Square Mall.
Officer Fredenburg recognized early on that there appeared to be a significant amo
unt of retail fraud (shoplifting) cases taking place and that many of the offenders shared commonalities. He started working with retailers and training them on their rights and the actions that can be taken to help thwart being a victim.

The Crime Prevention Unit developed the concept that what was once a crime of negotiation, needed to be treated with the seriousness it deserved. Millions of dollars worth of inventory are lost each year to thieves and the value of the lost inventory is passed on to the legitimate consumer. We recognized that our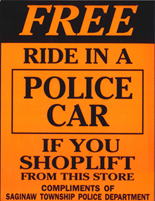 residents and businesses are paying the costs for the actions of thugs and many times, the criminals reside outside of the Saginaw Township community.
The negotiated crime ("Cant' I just pay for it?") was making the act of retail fraud a game of "Catch me if you can."The only consequence to the offender was the risk that they may have to pay for the items they had stolen. If they didn't get caught, the business and consumers lose. If they did get caught, and had the funds to purchase the item, many simply walked away.
Thanks to the Shoplifter Task Force, that negotiated settlement between the retailer and the offender has been set aside and the crime of retail fraud is prosecuted.
Retail fraud is a recognized crime to both the business and responding police officer.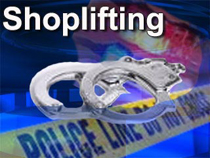 Through education and training of both law enforcement and retailers, the Shoplifter Task Force philosophy and approach has become a popular initiative for the area.
The Shoplifter Task Force now includes regular briefings for area loss prevention specialists, law enforcement, and prosecutors. Information is streamlined and suspects are identified, arrested, and prosecuted at an exceptional high rate.
Word has gotten out to offenders that there is a "zero tolerance" of retail fraud crimes in Saginaw Township and if they are apprehended they will go to jail.
If you are a business located in Saginaw Township and want to participate in the Shoplifter Task Force initiative, please contact 989-791-7226 or via email with the subject "Shoplifter task Force" here.